Tiling
Preparation is key to the quality and appearance of all our projects.

Our attention to detail gives you the assurance that Floorbitz will present you with the finish you expect.

Whether the project is for your home or business, trust Floorbitz to carry out a top, professional wall and floor tiling service for your kitchen, bathrooms, wet rooms, decorative features, entire homes, patios, sun terraces and pool surrounds.

Floorbitz' reputation for quality will give you the perfect tiled finish.
We take care with all our installations. Not only do we use the correct adhesive and grout for the installation, but we give the tiles room to `breathe' by ensuring that they have grout joints between them and not `butt' joints.

Not only does this guarantee a superior finish, but, as all tiled floors and walls experience slight movement, it virtually eliminates tiles popping or lifting. Trust us with your project big or small.

Make Floorbitz your first choice for all your tiling requirements
There are thousands of designs, colours, patterns and borders available to enhance any setting or idea.



Ceramic tiles.


Quintessentially Spanish and one of the most cost effective ways to revamp any room or patio in your home or business.
Ceramic tiles can be used for all types of applications from Kitchen floors and walls, to complete bathrooms and splash backs. Decorative tiles are often used as accent pieces to enhance the overall design and feel of a room.

Colours and mixed colours are now available as never before, with an abundance of accessories to match. Ceramic tiles are available either glazed or unglazed.

Why choose ceramic tiles?
Hygienic - do not attract or absorb dirt, easily cleaned
Are stylish and practical when professionally installed
Quintessential to Spanish living
Thousands of designs, sizes and colours to suit your project perfectly
A huge range of accessories available
Highly versatile - floor tiles can also be used on walls
Hundreds of local stockists
Perfect for rental properties
Cost effective



Porcelain tiles.


Growing in popularity due to their durability. They are fired at extremely high temperatures. This makes them stronger than ceramic tiles and harder than granite. Manufacturers are now able to replicate a wide range of natural finishes and designs to resemble marble, slate, limestone, granite, travertine and even quartzite

Why choose porcelain?

Larger tiles (up to 2m x 2m) can now be produced, providing an elegant uncluttered finish with simple lines for a contemporary and spacious feeling.
Perfect for wet rooms and showers as they are impervious to water penetration
Highly durable and resistant to chipping and scratching - the tile is a homogenous mix, so a chip or scratch will simply blend in
Low maintenance after installation
Easy to clean and mould resistant
Stain and bleach resistant and do not require sealing
More durable than ceramic tiles
Marble flooring.


Adds glamour and an aura of richness to any room, home or business. It's natural beauty surpasses most other flooring materials

Marble is the ultimate in style and sophistication...
Design options with marble flooring are plentiful, with a huge variety of tile colours, sizes and shapes to leave you with a stunning floor that will last a lifetime. Trust Floorbitz to manage every aspect of your marble installation

Why choose Marble?

Proven to add value to your home
Add uniqueness to your homes - no two pieces are same
As a natural stone product, it is completely biodegradable, making it a favourite among environmentally conscious homeowners.
It is bacteria, allergen and moisture resistant when sealed
Top quality at an affordable price. Marble is quarried in Spain meaning that that it is more affordable now than ever before.
For your free, no obligation quote, call us direct today.
610 77 44 05 / 952 49 23 30 or e-mail us info@floorbitz.com

Covering the coast from Malaga to Estepona
Patios - Terraces - Floors - Walls - Kitchens - Wet rooms - Bathrooms - Marble Polishing.

Some of our latest work explained.
Please spend some time looking over the examples of our work.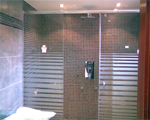 Your bathroom.
Gone are the days when the bathroom was simply the smallest, least functional room in the house. A beautiful bathroom will add significant value to your property and is a real must-have modern luxury. It can be a place that invigorates you in the morning and soothes away your troubles in the evening. So make it something really special.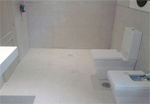 Wet rooms.
where the bathroom is the shower enclosure and the water runs into a drain in the floor. They look wonderful teamed with metallic borders or decorative strips (thin strips of ceramic, metal or glass that form a horizontal line or border, often between one colour of tile and another). With an almost unlimited choice of patterns, textures and colours to please even the most fastidious tastes, bathroom tiles are the obvious choice for lining your bathroom or/toilet area.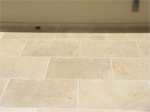 Terraces
look wonderful with either ceramic, porcelain or marble tiles and they're practical too - muddy foot or paw prints from the garden can be quickly wiped away with a cloth or mop. If you continue floor tiles through into your property with a few carefully placed pot plants inside and out, you won't be able to tell where the house ends and the terrace begins.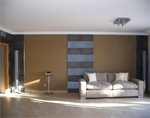 Your living room
is a multifunctional area that says a lot about your personal sense of style and incorporates activates such as relaxation, entertainment and entertaining. Porcelain stoneware floor tiles combined with an under tile heating system create a beautifully warm, stylish and inviting room, whilst added floor rugs enhance comfort and give a splash of colour.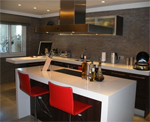 Kitchens
are fast becoming one of the key features, a beautiful kitchen contributes to the value of a property, but it's also the focal point of a home. Tiles are ideal for kitchen floors as they're easy to clean and very hard wearing. For a modern, crisp, minimalist look, large format, pale-coloured floor tiles can be teamed with plain wall tiles. If you're more of a traditionalist you may prefer the rich, warm tones of terracotta.

If you have any questions please contact us for more information about our services and to arrange a free estimation for all of your floor and wall tiling needs.

Make Floorbitz

your first choice

for all your tiling and flooring requirements.

For more information about our range of services or to arrange a free site survey.

For your free, no obligation quote, Call us Today, direct on 610 77 44 05 / 952 49 23 30
or e-mail us info@floorbitz.com

Covering the coast from Malaga to Estepona


Patios - Terraces - Floors - Walls - Kitchens - Wet rooms - Bathrooms - Marble Polishing.